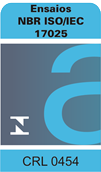 INMETRO CGCRE Accreditation
CENIC laboratory is accredited by INMETRO's CGCRE in accordance with ABNT standard NBR ISO/IEC 17025, under number CRL 0454, for mechanical, static and fatigue tests, as well as corrosion testing on various products. Please check the detailed scope of our accreditations at INMETRO's site, clicking on the box on your left.
INMETRO's CGCRE is a signatory of international agreements. Therefore, the accredited tests performed by CENIC laboratory as per agreements below are recognized by the member countries:
ILAC - International Laboratory Accreditation Cooperation (http://www.ilac.org);
IAAC - Interamerican Accreditation Cooperation - IAAC (http://www.iaac.org.mx);

Please check the scope of our accreditations at INMETRO's site.



REBLAS qualification
CENIC laboratory is a part of the Brazilian Network of Analytical Health Laboratories (REBLAS), composed of public or private analytical laboratories enabled by ANVISA under number REBLAS 018.

Please check the scope of our accreditations REBLAS.
VISION, MISSION AND QUALITY POLICY
Vision
Our vision is to be recognized as a reference in the special tests sector, especially for product fatigue tests.

Mission
Our mission is to develop and implement special tests with diligence and top quality, thus contributing to a better performance of our clients' products.

Quality policy
Our priority is to respect customers needs by offering special test solutions coupled with solid professional practice and best test quality. To this end we rely on dedicated professionals and a management committed to compliance with ABNT NBR ISO/IEC 17025 standard and striving to steadily improve management system efficiency.